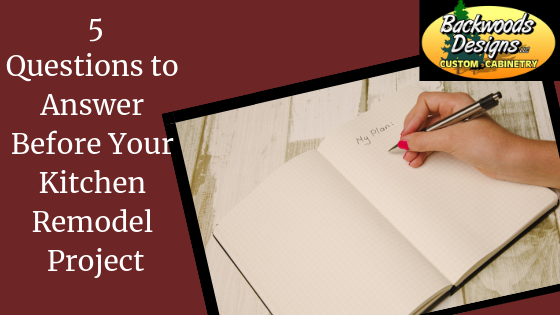 A kitchen remodel can turn out to be a rather extensive process if you get down to every piece of the room. Obviously there are the cabinets, but there are also appliances, and countertops. Sometimes changes are even made in the flooring, lighting, and plumbing as well. But before diving into all of those pieces, there are some "big picture" questions that should be answered first to help make sure your new kitchen is absolutely perfect for you. Here are 5 things to think about as you start to dream and design your kitchen:
1) How do you use your kitchen?
Do you like to bake? Do you preserve vegetables from your garden? Entertain or have a large family where you need a buffet line for food? Your kitchen should include elements that fit your lifestyle and those items should be at the top of your wish list. Actually they should be on your NEEDS list. (I will explain more about the NEEDS list later) Maybe you need a large sink for washing pots and pans. Or maybe you need a separate serving space, like a peninsula or island, for serving large meals. Do you need a double oven as a wall unit instead of a standard stove? Write down the things that are MUST for your kitchen and the way you commonly utilize that space.
2) What do you have room for?
This might require some advice from a professional from the design world, or construction world, or both, BUT, even though you strongly desire an island—will it actually fit in your home, or will it cramp and crowd your space? Or maybe you've fallen in love with the look of small glass doors for decor that will really accent and dress up your space, but are your ceilings tall enough to accommodate them without sacrificing storage for your other kitchen items? In most cases, where there is a will, there is a way. But, keep in mind that the pictures you find online or in magazines and fall in love with might not be physically possible with the space YOUR home has to offer. This isn't to say that some construction work could provide a solution, but keep a realistic view of your dreams.
3) What do you need for storage?
While the look of your kitchen cabinets can set the tone for the whole room, the truth is, their job is to store the things you need and use in your kitchen. So, let's think about storage. Do you have any large kitchen gadgets that you need space for? Do you desire a cabinet for your garbage and recycling? Your countertop mixer? Crockpots? Canning pot? Oversized baking sheets? Tupperware? Would you prefer those certain items stored in a drawer, on a shelf, on the counter, or in a pantry? Which items do you use most often that you would want easy and quick access to versus items that could be tucked away and only used a few times a year? A kitchen remodel is a large undertaking, and you don't want to regret your decisions later. So, consider which items you use most often and make sure you plan for space to fit those items in a convenient location.
4) How do you like things organized?
These days, you can find organizers or organizational hacks for just about anything. Similar to the idea of storage, think about how you like things organized. Which pieces of silverware and utensils would you like in the same drawer or bin? How would you like to sort your stored foods: canned goods, baking goods, spices, cereal, bread, snacks. For items you would store in the base cabinets, would roll out shelving be helpful, or is a drawer a better option? While thinking of storage you might think " I want my cooking utensils next to the stove," but in thinking about organization you may think "I would like my spatulas separated from my ladles and tongs with dividers." Similarly, pots and pans might also be stored near the stove, but organizationally you have the options of stacking them, hanging them, or each one sitting separately next to each other. What would make things EASIER FOR YOU when you are working in your kitchen?
5) What is your budget?
While cabinets are the core to your kitchen, most remodels involve a lot more than just replacing cabinets. Often times there are new appliances, sinks, faucets, countertops, flooring, and even lighting and backsplash changes. Consider all the aspects to your remodel and start to do some searching for products in each of those categories that you might like. Back to that NEEDS list—every aspect of your kitchen should be prioritized into one of three categories: Needs, Wants, and If I Had A Magic Wand And Money Didn't Matter. Putting each piece of the puzzle into one of these categories will help determine what could possibly be eliminated if you are reaching the maximum in your budget. It might go without saying but items in the Needs list should always be kept, while items on the Magic Wand list are items you could live without and eliminate. For example, every kitchen NEEDS a sink, but if you had a magic wand, you might have a hand forged copper sink. Or, every kitchen needs a stove, but if I had a magic wand, I would get a cooktop and a wall oven as separate appliances.
So, to recap, the 5 questions to ask yourself as you plan your kitchen remodel are:
1) How do you use your kitchen?
2) What do you have room for in your space/home?
3) What do you need for storage?
4) How do you like things organized?
5) What is your budget?
After answering these big questions, the layout of your space will begin to take shape. Once that is complete, then you can begin diving into the details of appliances, flooring, counters and more and giving that new kitchen the beautiful look you've always dreamed of.